Cardiac MRI plays a major role in the diagnosis of both common and advanced cardiac conditions.
Its flexibility, however, requires a deep understanding of the many different types of imaging sequences. Examinations must be tailored to the unique question being evaluated and specific patient prep must be implemented. This advanced tailoring presents obstacles that many institutions face in offering cardiac MRI, including perceived long exam times, exam fatigue and incomplete studies, lack of technologist or radiologist expertise limiting the schedule, and so on.
DocPanel is eliminating these workflow challenges by empowering imaging facilities with processing tools, protocol assistance, and subspecialty readers necessary to provide cardiac MRI exams. We spoke with Dr. Giovani Lorenz, DocPanel reading radiologist and Cleveland Clinic fellowship-trained Cardiac and Thoracic imaging expert, to discuss how facilities can access his expertise and workflow processes on a case-by-case basis. From 30 minute protocols to improved efficacy and efficiency, Dr. Lorenz shares why now is the right time for a practice to consider a cardiac MRI program.
Access imaging protocols that cut exam time down to 30 minutes or less
Cardiac MRI is a powerful tool used to do something I call the "first time, best time" cardiac exam. It is the combination of premier cardiac imaging, quantification, and depth in answering the question. I believe we can offer a set of tailored protocols for every patient that answers their question. This is different than the conventional approach, which uses a cookbook method of nearly every sequence for every patient.
The process begins with knowing the target audience – who is ordering the exam – for example, a cardiothoracic surgeon for aortic aneurysm evaluation, TAVR, and valve disease; an interventional cardiologist for stent and ischemia workup; an internist; or a medical cardiologist for cardiomyopathy evaluation. Once you know this information, you can create a short, specific protocol for each ordering provider. I name it after the ordering provider. For imaging centers that use DocPanel, I work alongside the administrators and technologists to create these protocols.
Secondly, I use my second concept of "stranded island" to organize the protocol so the most important sequence is first. Once the technologist is satisfied that the most important sequence has been obtained, they finish the rest as time and accuracy permit – usually limiting the exam to 30 minutes of scan time.
If you would like to learn more about how you can access Dr. Lorenz's expertise on a case-by-case basis through DocPanel, send us a note here.
Have your images post-processed with TeraRecon
Through DocPanel, imaging facilities can have their studies processed with the latest software without having to purchase a license. Powerful post-processing software is a business onto its own and can be difficult to navigate. Vendors have added several exciting techniques to the core evaluation of ventricular function. With TeraRecon, we sought to leverage their automation, and AI with our myomaps to blow away our turn around time.
Furthermore, post-processing software, like TeraRecon, apply normals and safeguards to highlight my work on ventricle function, valve, and evaluation of enhancement. It helps me to decide if these values can be trusted and if my diagnosis makes sense. Too often, some cardiac imagers may rely on their gut and have a "selection bias". Well written software helps avoid this bias.
Access subspecialty readers on-demand
Cardiac MRI is an advanced modality and to ensure accuracy, exams should be interpreted by dedicated specialists. I have 16 years of cumulative training to arrive at this spot. Too often, the mirage of clean, beautiful images is the exact opposite of what we actually have to interpret daily. Having a dedicated specialist read these exams, helps to avoid pitfalls in interpretation (ie. artifact, subtle enhancement, motion, and incomplete exams).
When you have experience, you can move over these obstacles efficiently to arrive at the answer. I find that an expert can interpret the exam fast and more accurately since their training has exposed them to all sorts of pathological normals.
MRI Machine Requirements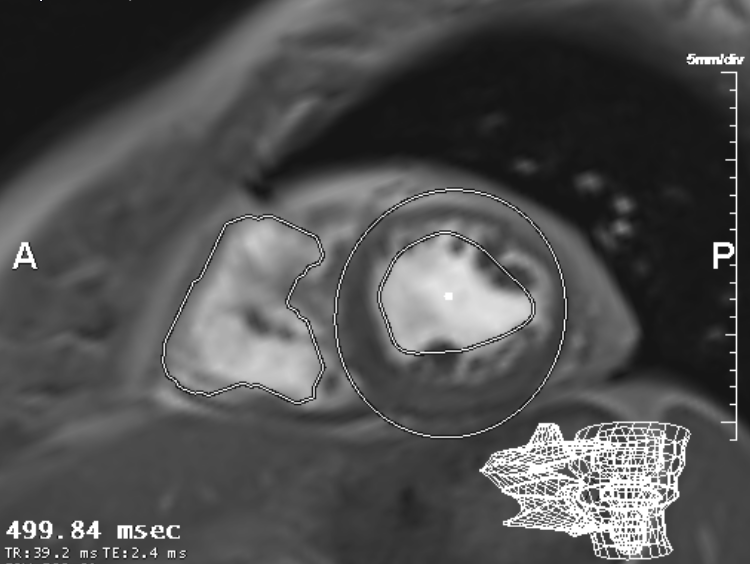 Most facilities likely already have the MRI machine needed to offer cardiac exams – all they may need is a software update from the vendor to ensure function and enhancement are available.
A cost-saving technique-T1, T2, and T2* myomaps can be important purchase considerations if your patient population is older and likely to suffer from myocarditis, sarcoid, amyloid, or nonischemic cardiomyopathies. These can be used in lieu of longer protocols to answer specific questions, limiting the exam to 10-15 minutes in some cases.
If you would like to learn more about how you can access Dr. Lorenz's expertise on a case-by-case basis through DocPanel, send us a note here.
The DoD, Air Force, and DHA do not endorse any activities or claims in this post.