Positron Emission Tomography (PET) imaging has evolved drastically in the last decade, placing it at the forefront of personalized patient care, particularly in oncology.
But while advances in PET provide great potential for providers to improve disease treatment and management, utilization depends upon access to the latest diagnostic tools and subspecialized personnel.
We spoke with nuclear medicine experts to discuss how imaging centers can address workflow challenges and ensure accuracy with remote reading solutions in four major areas of impact. From incorporating the latest tracers and image acquisition techniques to ensuring high-quality reports and overcoming internal structural changes, here are expert insights on implementing best practices in PET imaging.
1. Use of Tracers
Many new tracers are now available for different patient conditions. These tracers not only improve disease detection abilities, but also help better determine the best treatment options.
"In the age of targeted medicine and personalized healthcare, the use of more and more complex and equally individualized imaging can be critical in optimizing care. This is illustrated by the rapidly expanding list of FDA approved radiotracers," says Dr. Sanjit Tewari.
But putting these tracers into practice requires knowledge from specialists who are up to date on the latest techniques.
"Optimum tailoring of tracers for patients comes with having a deep understanding of what is available. Outlining the criteria for which tracer to use and developing selection guidelines can improve oncological imaging and diagnostic results," says Dr. Arif Sheikh.
Dr. Bolek points out that it is very important nuclear medicine specialists have a direct line of communication with referring physicians, so that they can guide them on the most appropriate PET scan to order for a patient's particular need.
"Facilitating this can be difficult for imaging centers when in-house specialists are either too busy or simply not onsite. With DocPanel, facilities have on-demand access to remote specialists who are not only able to read PET studies but who are also available to speak with referring providers to offer guidance on the latest techniques," says Dr. Luke Bolek.
Taking advantage of the capabilities new tracers offer can improve patient care and enhance relationships with referring providers.
2. Image Acquisition and Protocol Optimization
Providing new technologists with proper guidance on optimizing protocols and image acquisition plays a crucial role in workflow efficiency and diagnostic accuracy for PET imaging. But for facilities with high staff turnover rates or a lack of on-site subspecialty readers, providing training can be an obstacle.
"Many facilities lack subspecialists with training in nuclear medicine or cancer imaging. Docpanel fills this void immediately," says Dr. Brij Reddy.
In many instances, the appropriate imaging study properly protocoled and interpreted by a qualified radiologist is the critical first step in accurately assessing a patient and choosing the most appropriate treatment option.
"By working with remote specialty readers we can create systems to help both radiology and clinician practices," says Dr. Sanjit Tewari. "It also provides imaging centers that have the equipment but do not have in-house specialists an opportunity to expand their oncological services."
When you have greater collaboration between the nuclear medicine specialist and the technologist, you can achieve high-quality images with the lowest amount of radiation, in the least amount of time, explains Dr. Jaideep Sohi.
"It not only produces more accurate images, but also prioritizes the patient's comfort. Many reading physicians don't have the time to take on this responsibility because of high work loads; but, with very specialized modalities like PET, it's a critical component," says Dr. Jaideep Sohi.
Anxiety also plays a huge role in PET-CT imaging. Patients and referring providers are more likely to use sites that can provide faster turn around times. Current social distancing requirements are placing an added pressure on imaging centers to cut down exam times.
"With this current situation, it has become even more imperative to reduce patient visits and do it the right way the first time. Again, this further highlights how expert remote specialty readers can have a profound impact on practice workflow," says Dr. Sanjit Tewari.
In addition, reduced mobility due to COVID restrictions has led to fewer options for patients who require oncological imaging. Since patients can no longer easily travel to high profile academic facilities, leveling the playing field and bringing the best techniques for every community is especially important right now.
"Mobile PET-CT imaging centers are available for rural communities/hospitals to help reach patients that have difficulty accessing academic medical centers with PET CT capabilities," says Dr. Luke Bolek. "These facilities can handle greater case volumes when they partner with specialists who are working remotely."
3. Comprehensive Reports with Comparisons
Clinicians rely on study reports to determine treatment direction. When poor-quality reports are sent to referring providers, it can be frustrating and lead to a loss of referrals. This is especially experienced when scans are interpreted by general radiologists and not specialists.
"Clinical history is the most important part of interpretation," says Dr. Peggy Chan. "The reading radiologist must ensure they have all the patient's information before looking at the images. And if they do not, it's important that they have a way to request it. With remote reading platforms, such as DocPanel's, these channels of communication are well established."
To address the main components of comprehensive reporting, imaging centers are advised to do a quality check for the following three factors:
Clarity –
Reports need to be clear on the identification of disease, staging, and progression of metastasis. They play a crucial role in providing the oncologist with the information needed to make decisions for patient management.
"PET Neuro and Cardiac imaging generally require quantitative imaging. MIM Software provides such capabilities. Formal response criteria such as PERCIST for solid tumors and Lugano / Lyric (based on Deauville) scale for lymphoma are also becoming increasingly important in oncological imaging and require a very high level of expertise," says Dr. Darko Pucar.
With DocPanel, readers can access high-level specialists and the best diagnostic tools. The ability to use cloud-based applications, like MIM, with advanced capabilities to quickly and effectively review PET-CT scans can help radiologists reduce inefficiencies and focus on communication with technologists, referring providers, and workflow coordinators.
"With implementation of advanced practical imaging platforms such as MIM software, DocPanel's nuclear medicine specialists are able to harness its power to better detect disease and ultimately assist the patient's oncologists and other physicians to make critical decisions," says Dr. Andrew Kim.
Comparisons –
Detailed comparisons are the cornerstone to an excellent PET report.
"It's our duty to answer the clinical questions being asked by the referring physician. That's only possible when a comparison is done to the prior," says Dr. Jaideep Sohi. "Where Docpanel shines is that we work with imaging centers to make sure we have the appropriate priors. We make it our mission to provide a thorough comparison."
When interpretations do not include relevant prior imaging and medical records as correlative information, disease progression or disease response may not be able to be detected on a follow-up PET scan, adds Dr. Luke Bolek.
Communication –
The lack of overall communication between referring providers and radiologists can negatively impact accuracy in patient diagnosis and treatment.
"If a radiologist is reading a lot of scans, they may not have time to connect with the referring physician. On the flip side, in places where you have a lot of radiologists it can be difficult for the provider to get a hold of the particular radiologist who reviewed their patient's scans," says Dr. Jaideep Sohi. "With DocPanel, one or two specialists are assigned to a single referring provider, which makes it easy for them to get a hold of the appropriate physicians. It can be frustrating for referring providers when they can't reach the person who knows what's going on with their patient."
4. Structural Changes and Dilution of Specialty
The magnitude of disruption caused by COVID-19 is expected to cause long-lasting structural changes to the industry. While the effects of furloughs, layoffs, mergers, and bankruptcy are still playing out, many practices are overwhelmed with navigating new workflows, laws, and clinical directives especially around patient safety.
As advances in techniques with new tracers and equipment are rolled out, physicians are required to refresh their knowledge base. But unusual demands for generalists to do subspecialized work, and vice versa, is leading to the dilution of specialty focus of many practices.
"Both PET and SPECT are seeing the development of entirely new types of tracers that will impact all aspects of patient medical care. Keeping up with these developments will be difficult enough for nuclear medicine imagers, let alone those who are reading multiple modalities," says Dr. Arif Sheikh. "Ensuring you have dedicated experts reading PET scans is crucial. Nuclear medicine specialists will be best-trained in picking up the subtleties of PET images to ensure that the evaluations are accurate, and the scans are used in the most cost-effective manner."
For facilities who are beginning to experience volume increases but do not yet have enough caseload for a full-time position, DocPanel can provide tailored coverage.
"With DocPanel's new MIM collaboration, we can provide the highest standard interpretation using cutting-edge software. We can customize workflow and hanging protocols, which enhances the overall reading experience for radiologists. This can greatly improve turnaround time, especially for complex cases," says Dr. Jaideep Sohi.
While the inability to travel impedes the ability for institutions to continue to invest in new technology and limits participation in research, DocPanel offers a bridge in accessibility to new diagnostic tools. The psychology of fear amidst patients and caregivers due to the pandemic adds another big concern that must be addressed. Practices have an added responsibility to provide a safe environment and make sure that they communicate that to all patients. Being able to provide patients with the reassurance that they are receiving the best care possible can help alleviate stress and install confidence.
With further and further sub specialization in medicine and equally more complex pathologic characterizations and therapeutic options, the need for dedicated nuclear medicine radiologists in PET imaging is more important than ever. However, meeting this demand is challenging. Over the last ten years, the number of nuclear medicine radiology trainees has fallen by more than half. Ongoing growth in the adoption of PET/CT scanners by imaging centers is further exacerbating the need for specialists. In 2018, PET procedure volume in the U.S. reached a new high, up by 7% from the previous year. Fortunately, remote subspecilaty readers offer a solution to gaps in accessibility. Facilities can tailor coverage to their exact needs and benefit from the best diagnostic tools. With well-established lines of communication and overall workflow enhancements, imaging centers can easily maintain a high level of vigilance to ensure accuracy and protect patients, referring providers, and radiologists.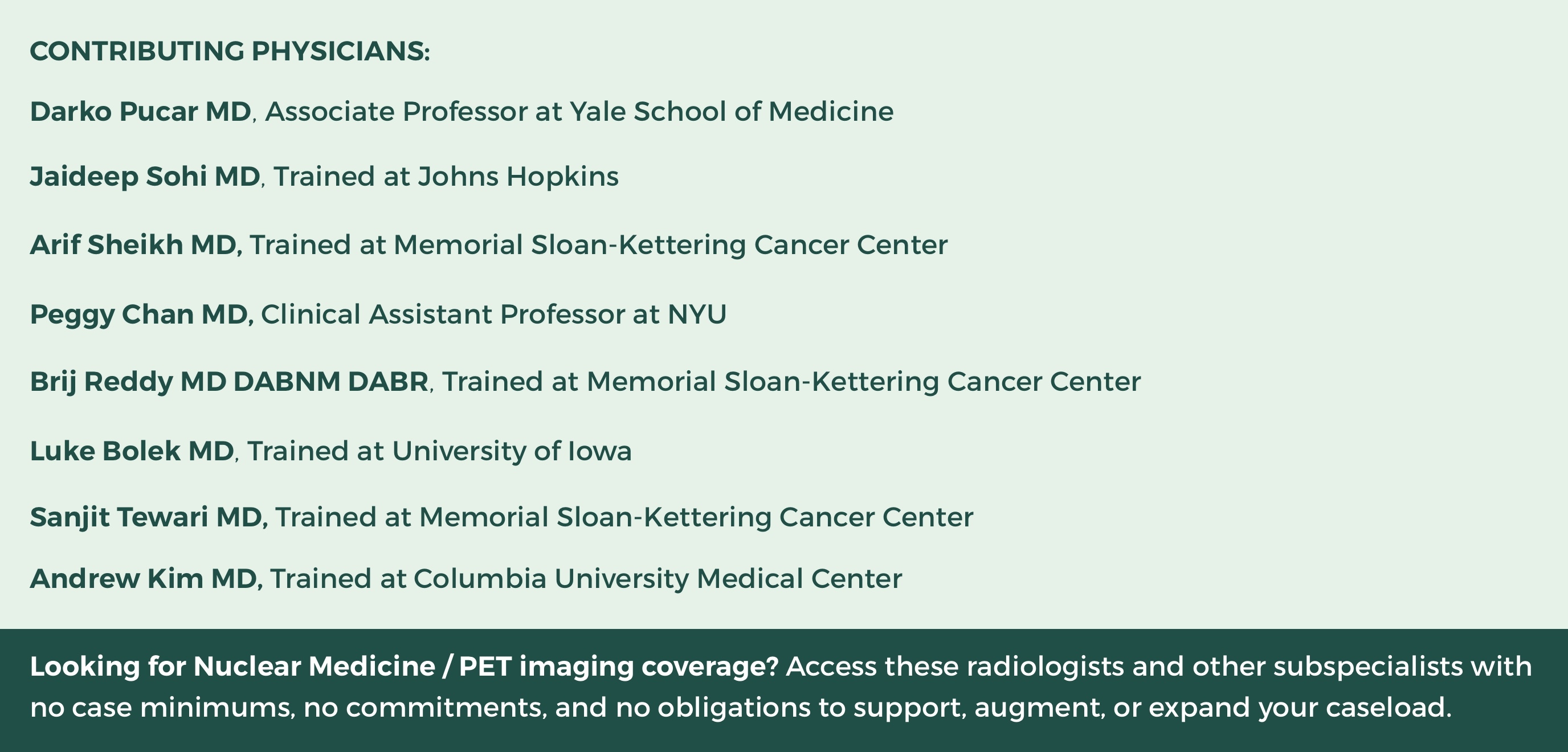 If you would like to learn more about DocPanel services, send us a note here and a team member will reach out to you.