David's Story
While the results were not what I hoped for, I gained the trusted reassurance that ankylosing spondylitis is likely my diagnosis. I now feel confident that I can move forward with treatment and have peace of mind knowing what has been causing my pain.
After receiving two conflicting diagnoses from my doctors, I came to DocPanel for a second opinion on my lumbar spine and pelvic MRIs. I'd been dealing with lower back and hip pain for several years. I also had a mild disc herniation that I thought could be the source of my pain. My primary care physician suspected a muscular injury, while my rheumatologist suspected ankylosing spondylitis. While I hoped the latter wasn't true, I needed clarity on my diagnosis. The subspecialty radiologist who provided my second opinion went above and beyond, providing me and my doctor with the answers and information we needed to move forward.
My Symptoms
Ankylosing spondylitis (sometimes referred to as bechterew disease) is an autoimmune disorder that, unfortunately, runs in my family. My father was diagnosed in his thirties. But ankylosing spondylitis is not easy to diagnose. It doesn't always show on imaging at the start of symptoms, as it's a slow-progressing disease. In my early twenties, I started having lower back pain and began seeing a rheumatologist specializing in ankylosing spondylitis. My rheumatologist suspected AS early on; however, a definitive diagnosis was not made.
Following a severe flare-up that included back and hip pain, muscle stiffness/tightness, and leg numbness and tingling, my doctor ordered a couple of MRI scans to determine if I did indeed have the beginning stages of AS. The imaging showed inflammation in the sacroiliac joints, which can indicate AS, but no lumbar spine involvement, which is a good thing. My doctor discussed starting me on a biologic medication to manage the AS. Biologics are immunosuppressants. Starting a medication like this during the COVID pandemic did not sound like a good idea to me and had me worried about the side effects. I wanted a second opinion so that I could have peace of mind that my original report was accurate before proceeding with treatment.
Getting a Second Opinion
DocPanel was very easy to use and surprised me by how quick the process was. I wasn't sure what kind of radiologist was the best for my indication of AS (a neuroradiologist or a musculoskeletal radiologist), so I asked DocPanel for help selecting one. They reviewed my case and guided me toward one of the top musculoskeletal specialists in my state, Dr. Lawrence Yao. I was able to create an account, upload all of my imaging with ease, and received my second opinion results in less than two days! I had all of my new imaging reports well before my next doctor's visit and was able to share them with my doctor before my appointment.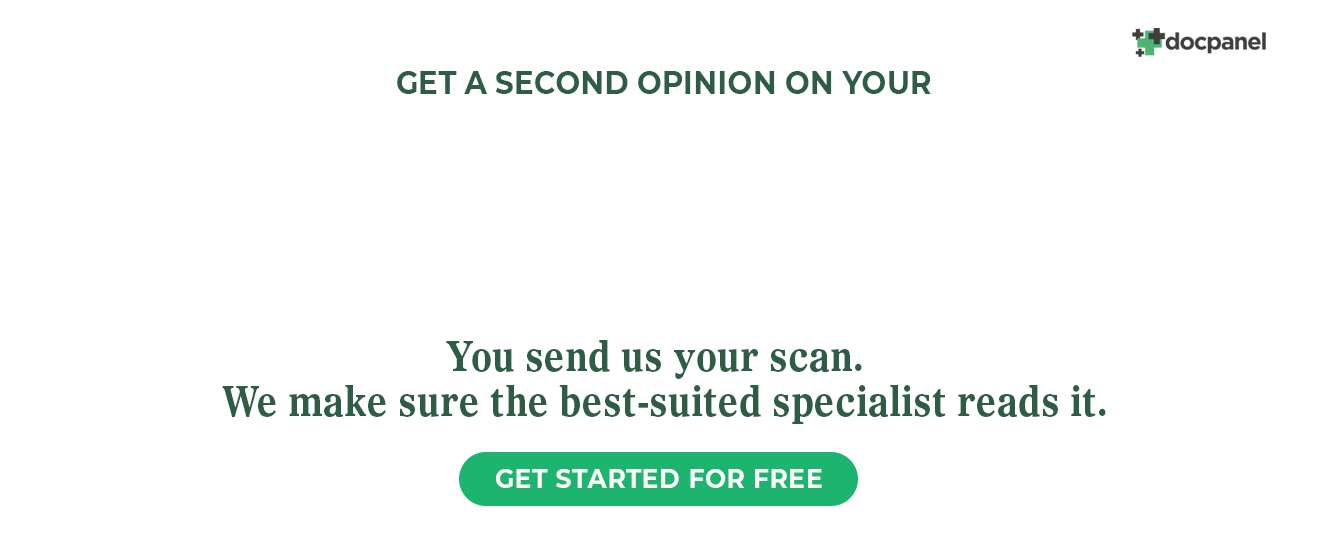 Clarity and Peace of Mind
My second opinion validated the original interpretation of my scans. While the results were not what I hoped for, I gained the trusted reassurance that ankylosing spondylitis is likely my diagnosis. Dr. Yao's report was even more detailed than my original report. He thoroughly answered all my questions regarding the likelihood of me having AS based on my imaging, symptoms, and lab results. I now feel confident that I can move forward with treatment and have peace of mind knowing what has been causing my pain.
Next Steps
My doctor used both my original report and my second opinion to develop a plan of care. The additional information provided in my second opinion helped my doctor and me confidently consider alternative treatment routes. Luckily, in my case, we were able to postpone starting biologic medication for now and instead developed a plan to tackle my symptoms with a no starch diet, stretching, and exercise. A low-starch or no-starch diet can help reduce inflammation within the body and help reduce symptoms of AS.
Final Thoughts and a Word of Advice
To others who have suspected or diagnosed Ankylosing Spondylitis, I recommend reading and educating yourself about the condition. Try multiple avenues before going on medication, like exercise, acupuncture, osteopathic manipulation, and adjusting your diet. Be patient with the pain and learn what triggers your flare-ups.
Getting a second opinion when AS is being questioned is a really good idea. AS is rare, so you should definitely have an expert reading your exams. I feel DocPanel can give you access to a higher level of specialized care when it comes to your medical imaging. The ability to be able to ask custom questions to the radiologist reading your exam is extremely helpful and a unique opportunity.
Finally, I strongly recommend finding a support group where you can learn about your illness and talk to others experiencing similar struggles. I found a Facebook group of members with AS who teach you how to manage it with diet modification. It has been a savior for me.
DocPanel is committed to making sure every patient receives excellent care. If you would like an expert second opinion on your medical imaging from a fellowship-trained subspecialty radiologists, you can learn more here.
Read Next: Should I Get A Radiology Second Opinion?