Making important decisions about our health and well-being can be daunting.
Whether facing a complex diagnosis or contemplating a treatment plan, obtaining a second opinion is a valuable resource that empowers us to make informed choices. However, the traditional route of seeking a second opinion often involves obtaining a referral from a primary care physician, adding layers of bureaucracy and potential delays to the process. Fortunately, advancements in technology and a shift toward virtual healthcare options have opened up alternative pathways, allowing individuals to pursue second opinions without the need for a referral.
For many areas of medicine, virtual second opinions are also paving a way for improved access to subspecialized expertise. While clinical check-ups often rely on in-person evaluations, other types of specialized care do not necessarily require our presence. For such specialties, geography no longer has to limit us from getting subspecialized care. Through DocPanel, patients worldwide can get a subspecialty radiology second opinion without any referral requirements. Provided by top radiologists in the US, the price is affordable, the process is easy, and the wait time is only 24-48 hours.
Here's everything you need to know about getting a radiology second opinion without a referral.
Getting Started
Create an Account
The first step to get a second opinion is to create an account. Simply enter your email address and a password of your choice. You'll then receive an email to verify your account and log in.
Upload Your Scans

The next step is to upload the scans. DocPanel only accepts images in DICOM format (.dcm). A DICOM file is an image saved in the Digital Imaging and Communications in Medicine (DICOM) format. It is the file type radiologists need to view and interpret your scans. Other file formats, like JPG and PDF, are not accepted because the image quality is not the diagnostic quality that is needed for an accurate diagnosis.
Usually, after getting a scan, you'll be given a CD with digital copies of the images. To upload your scans, select the entire CD (you do not need to click into it and select any folders) and click upload. Our system will pull all of the images from your scan directly from the CD. (A CD will usually always have the appropriate DICOM files.)
Once your scans have successfully uploaded, you will see a preview of the image.
What types of scans are covered by DocPanel?


DocPanel has expert radiologists proficient in all image types, including x-ray, ultrasound, CT/CAT, MRI, mammogram, and nuclear medical imaging such as PET.
What if I don't have a copy of my scans?
Call or visit the imaging center, hospital, or clinic where you had the scan done, and ask them for a digital copy. Most centers will provide you with a CD.
I tried uploading my CD but it says I need a password
If your CD is locked with a password, you can call the facility where you received your scan to retrieve the password. Unlock the CD on your computer and save the files to your desktop. Now you can upload the scans from your desktop (not the CD) to your DocPanel account.
Read Lindsey's full story here.
Upload Your Doctor's Report
Doctors' reports can be uploaded in whatever file you have them in. (JPGs, PDFs, etc. are fine here.)
Do I have to upload a doctor's report?
No, doctors' reports are not required. However, while the radiologist will provide a second opinion report based on their unbiased review of the scans you have uploaded, prior reports can be very useful. They help the radiologist identify specific techniques used by the technician who performed the scan, as well as provide a base for them to address any findings in a more specific way, as well as better answer your specific questions. The more information you provide, the more definitive and clear your second opinion will be.
Enter Your Clinical Details

In the next section, enter your patient information and your reason for getting a second opinion. This will be sent to the radiologist, so it's good to make it as detailed as possible. Include information about symptoms, medical history, previous surgeries in the area being examined, and anything else that you think will be useful for the radiologist. You will also be able to ask specific questions you might have for the radiologist to answer.
Ready to get started? Create an account here.
Choosing Your Radiologist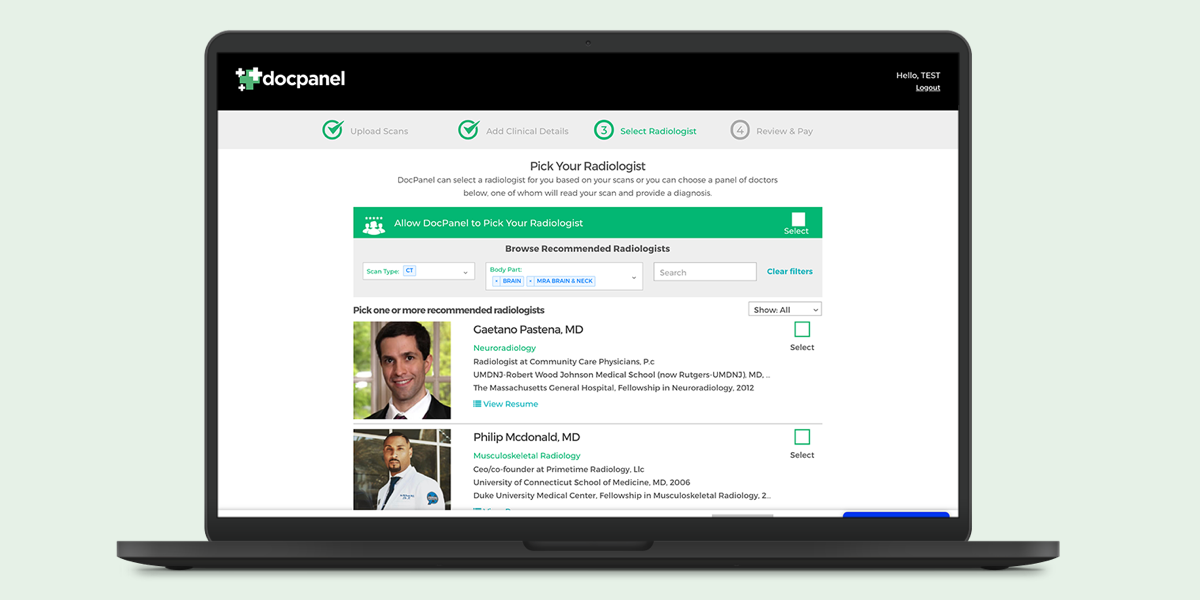 You have the option to choose a radiologist yourself or have DocPanel select the one best suited for your particular case.
Given the complexities of your case, we always suggest letting our medical team match you up with the right specialist for your needs.
Read Peter's full story here.
Review and Submit Payment
The final step before submitting is to review your information and enter your payment details.
Does DocPanel accept insurance?
No, at this time DocPanel is an out of pocket service. With that being said, DocPanel's prices are much lower than other subspecialty second opinion services.
---
DocPanel is committed to making sure every patient receives excellent care. If you would like an expert second opinion on your medical imaging from a fellowship-trained subspecialty radiologists, you can learn more here.
NEXT: Read our blog post on the Should I Get A Radiology Second Opinion?